Thinking about taking a ride around town? LMQC blogger Alan Sivell and Augustana professor Chris Strunk (pictured above) say it's good to know the safe and not-so-safe bike trails in the Quad Cities.
By Alan Sivell
The Quad Cities has some great bike trails that are safe to ride. But Augustana Geography Professor Chris Strunk says the Quad Cities has some places that are NOT very safe to ride.
Strunk has some data to back that up. And in the coming months, he plans to gather more data to get a clearer picture.
Strunk teaches a class on geographic information systems, in which students learn to analyze and display geographically referenced information.
Strunk got the idea for the class' focus this year when he was talking to a friend, Colleen Doak, who likes to bike. Doak just so happens to be a professor in the St. Ambrose University's Masters of Public Health program and, thus, is interested in the public's health.
"So we came up with this idea that my GIS students would use sometime during the fall, to be collecting data and then mapping experiences of cyclists and some of the safety measures we could find," Strunk said.
Bike paths are safer than streets
There really aren't any big surprises in Strunk's class' findings. Riding on the designated bike paths is pretty darn safe. Riding on the streets, even when marked? Not so much.
The survey was small, but Strunk plans to expand it this spring. He and his students are creating an app for QC riders to easily input their concerns and, conversely, pleasure with their biking experiences
"People can go in and highlight where they like to bike and where they feel unsafe biking," Strunk said.
Strunk hopes this information can be used by the area's urban planners to improve alternative transportation.
"We have some good bike infrastructure here," Strunk said. "Two wonderful bike paths along the river and the Duck Creek bike path but the problem is that they are not connected to where most people live. So it's difficult for people to get access to the places designed to keep people safe."
Strunk believes we could do a lot here to encourage people to use alternative forms of transportation since our entire metro area is designed around cars.
On a mission to improve bike infrastructure
"I'd like to see more bike infrastructure, more separated bike lanes, more attention to improving sidewalks, and networks so people could walk and bike around the Quad Cities," Strunk said. "The biggest problem with our built-in environment is that our streets are designed only for cars and they are designed for cars to go fast."
Strunk suggests retrofitting our streets, reducing lanes, and bringing in trees. He says it would lead to a healthier environment, even if you aren't a biker.
The benefits of biking extend beyond fitness
"Plenty of big cities have figured this out," he said, "where we see a lot of investment in bike infrastructure. It's not that they care about biking so much but they see it as an economic development opportunity. And a way to have better health in their city."
Strunk cites Des Moines as a mid-sized city that has figured it out.
"There's a lot of research to show that people on bikes are going to spend more because they are going to stop and spend money. They aren't zipping through the town."
However, he said, it seems like not enough small cities have jumped on that bandwagon yet.
Want to help? Take the survey by scanning this QR Code …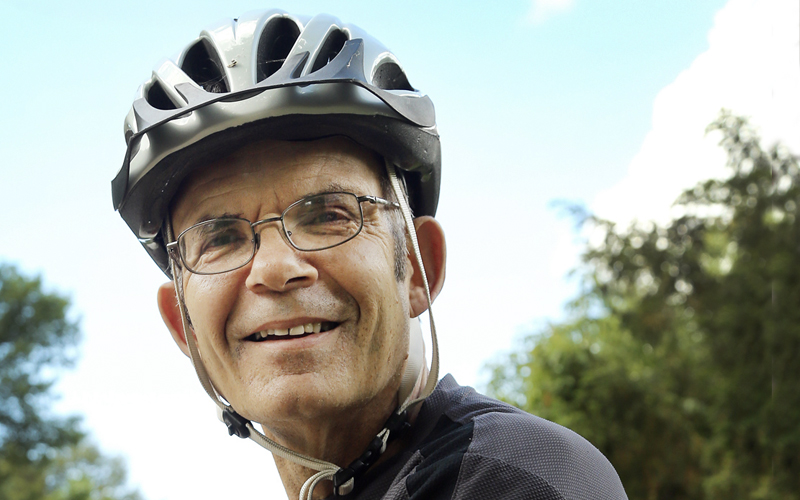 Alan Sivell
St. Ambrose Professor, Pizza-lover, Bulge Battler
Alan is a communications professor at St. Ambrose University and a former reporter for WQAD-TV who has exercised – and dieted – his entire life.